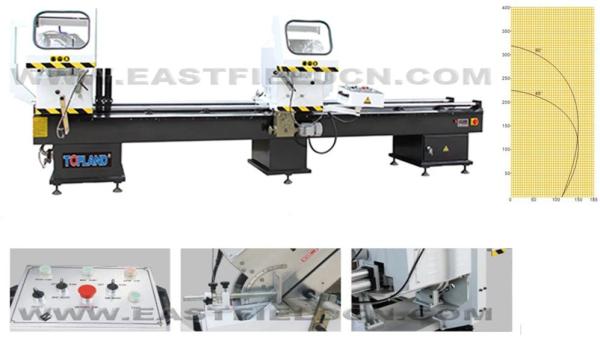 Double Angle Cutting Saw for Aluminium/Plastic WIN-DOORS
Model: DSCS450x3600
Motor: 380V, 3~,50Hz,3550W(2x1500W+1X550W)
Blade size: 450x30 mm
Blade speed: 2840 rpm
Max cutting size: 120x160mm 
Cutting angle: -45degree, 90degree, 45degree 
Packing size: 4500x1500x1600 mm 
N.W.: 1600 kg
Features:
Used for cutting of the two ends of aluminum and plastic materials which shape angle of 45°, 90°or -45°. The special carbide saw blades ensure the quality and durability of cutting surface.
The precision spindle can lead to the smooth movement of blade. Maximum cutting section is 120X200mm. The two saw heads  can work alone or together.
The error of cutting angle is limited to ± 5, the flatness of the cutting profiles is not more than 0.05mm and the roughness is Ra12.5μm.
The new automatic rising and falling shield is our latest products to digest and absorb foreign masterpiece.  Hanging at the head of the machine, the shield is safety, compact and durable.